Are you leveraging big data to solve key business problems?
Dramatic shifts in the way customers and suppliers view their experience are changing the way you interact  and require new approaches to maximize profitability and revenue.  Big data presents a huge, new opportunity for your company to meet the more demanding requirement.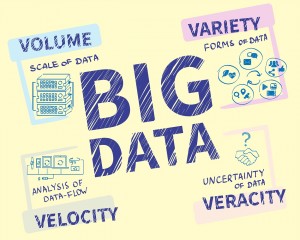 Big data is changing the way people within organizations work together. It is creating a culture in which business and IT leaders must join forces to realize value from all data. Insights from big data can enable all employees to make better decisions—deepening customer engagement, optimizing operations, preventing threats and fraud, and capitalizing on new sources of revenue.

The challenge of big data
Big data is characterized by the tremendous volume, variety, velocity and veracity of data generated by a wide array of sources including sales, financial, warranty claims and consumer sentiment data from multiple sources. To sustain growth, leaders are prioritizing combined inputs in their decision making.
By designing an appropriate infrastructure, an organization can leverage and relate externally collected Big data with internal data stored in data warehouses and marts and begin to analyze Big data in-motion which enables new types of analyses.  Benefits include:
Improved call center & dealer service performance

More efficient regulatory compliance

Faster, more accurate financial performance data

Quality improvements as a result of defect root cause analyses
Decision Systems is big in BIG data
Escalating demand for insights requires a fundamentally new approach to architecture, tools and practices.  We work with you to prioritize the analysis effort.   We can assist you with deploying the appropriate tools to obtain and display information in the needed format.

Check out this video on using analytics to improve business operations.