Cubus Performance AL (EV)
Cubus Performance AL (EV)
 cubus  Performance AL (EV) makes management reporting easy!

Cubus is the easy way to analyze OLAP data.  Cubus Performance AL (EV) analytics enables you to take an entirely new approach to enterprise performance management that seamlessly links the financial, project, and strategy worlds. 
Leverage the full potential of Performance Management cubes in real-time. The intuitive user interface enables users to quickly and easily perform interactive, dynamic analysis and reporting.
Creating your own ad hoc analyses is simple. You can select, search and sort all of the members, attributes and data that you need with just a few clicks. Best of all, you don't need to start from scratch each time.
How complex you design your reports is completely up to you. You can view your results online in a browser, send them as an e-mail, export them as Excel or PDF files, and print them complete with a table of contents, title and footnotes directly from the web.
Compelling dashboards provide executives with the latest insight into all important KPI's so that they can make fact-based decisions.
Business processes become transparent, enabling you to minimize risks, to reduce costs and to fully utilize your innovation and development potential.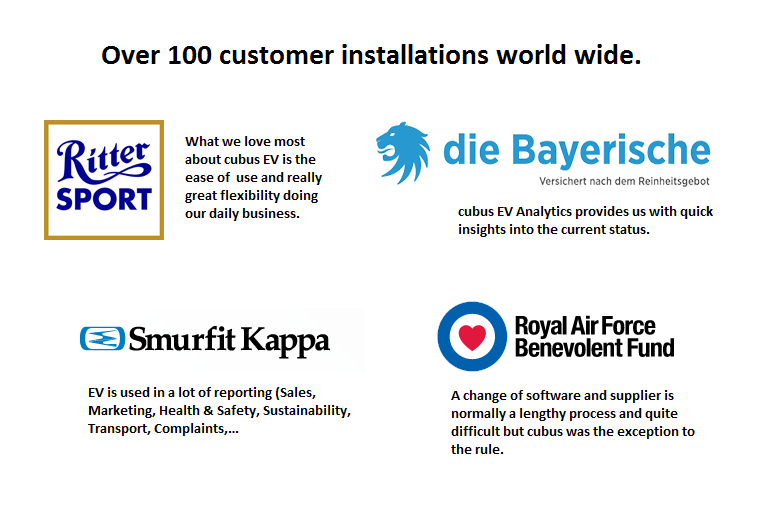 Said Henrik Wirth, Head of Finance Systems: Takeda Pharmaceuticals International GmbH: "Takeda has been using EV for many years in multiple business units in worldwide.  We migrated to cubus in 2013 and are very happy. cubus has delivered as promised and we are looking forward to a long-term, mutually beneficial business relationship."

  Want to to learn more from cubus customers or register for a webinar?   Click here. Check out this video for demo.